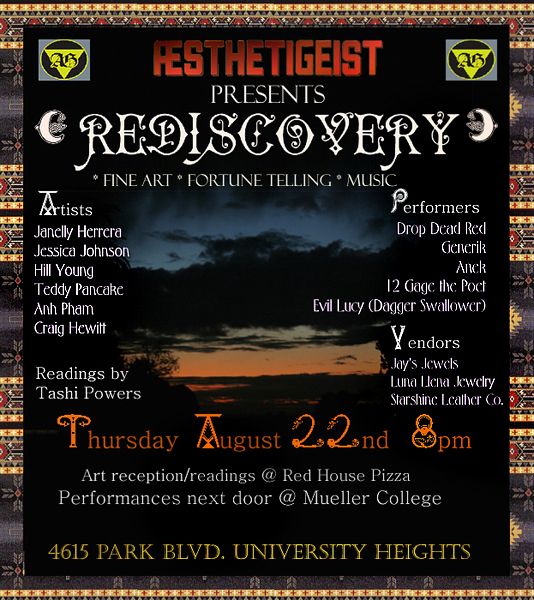 Aesthetigeist Presents: Rediscovery

Red Brick House

4615 park Blvd.
San Diego, CA 92116


The below paintings are currently available at Red House Pizza. Stop by, take a gander, and if you are interested in purchasing a piece, all sales can be made through the pizza place!

Diane Johnson:

Danica of Starshine Creations Co.:

Buttons by Teddy Pancake:
More art by Teddy:

Tarot Reader, Myora:
Jewelry designer Paulina of Luna Llena:

Tarot Reader, Donna:
Painting by Jessica Johnson:
12GagethePoet & Jesse TallCan:

The paintings below are currently hanging at Mueller College (which is next door to Red House Pizza). If interested in purchasing a piece, either email emeraldsrain1@yahoo.com or you can purchase directly through Mueller College!
Paintings on the right are by Jannelly Herrera:
Paintings on the right are by Jessica Johnson and the top left are Hill Young:
Previous Show: Social Experiment Vol. I